Michael Calcutt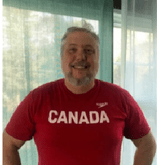 Head Coach – Senior Elite
Michael has been the Head Coach of CSLA swim team since 2015, he was the Assistant Coach from 2013- 2015. Before coming to CSLA he was the Head Coach for the Youth, and master's team (2011- 2013) at the Westmount YMCA. He also previously worked as the head coach of CALAC swim club (1988-2010) and the LaSalle Masters.
Coaching Career Highlights
Quebec Games Assistant Head Coach 1988
Top Development Coach Lac Saint Louis 1996
Canadian Head Coach Deaf Olympic Team 2001 & Melbourne 2005
Quebec Coach Tri Meet 2007
Canadian Junior Team tour Austin TX 2018
FNQ Top age group Coach 2018
Swimmers Top Results
15 International medals 5 Gold
12 Canadian National Medals 5 Gold
7 Provincial Records
100+ AAA Provincial Championship Medals
Abdenour Hammadache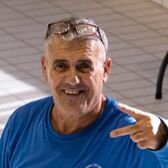 Assistant Head Coach – Age Group Elite
Since Hammadache was young, he had a passion for swimming. He did a coaching degree to satisfy this passion, he started with the small categories at the age of 24 and then became head coach of the very first club he started in 1997. In 2005, when he arrived in Canada with his family, he immediately enrolled his children in the Lasalle club, CALAC.
Once Hammadache' s Quebec equivalencies were done, such as Level 2 NCCP Coach, he started coaching the Youth group at CALAC in 2007 until 2011. He then became the head coach of the Westmount YMCA club from 2012 to 2015.
Hammadache is the assistant head coach at Côte Saint-Luc (CSLA) since 2015.
Highlights: Head Coach, National University Team Algeria, Bronze Medal 2004, Canadian Junior Nationals Coach 2012- 2015.
Jean-Sébastien
Age Group
Jean-Sébastien is a former swimmer who was a member of the Neptune swimming club for almost 10 years. When he stopped swimming competitively, he was approached by his club to help out with the coaching. During the 7 years of coaching at Neptune Swimming, he accompanied his swimmers at different levels, whether it was for the swimming school, development, age group or triathlon. He would also teach for the sport study section, assisting his head coach at the time.
​When he moved to Montreal to pursue his studies, he met Mr. Hammadache and joined the ranks of the Westmount Barracudas. A year later, the two colleagues met again at CSLA. At the same time, Jean-Sébastien has been working for almost 10 years in the Montreal school system.
Kyla Rollinson
Senior & Senior Training
CSL Triathlon
Born and raised on Ontario, Kyla began as a swimmer. At 9 years old, after failing a component of her swim lessons, her instructor recommended she try the swim team. The rest is history.
Kyla swam for 6 years with the Midland Keegos. There, she won medals in freestyle, backstroke, breastroke and IM as an Age Group swimmer at a provincial level between the ages of 10 and 15. After taking a break from swimming at 16, Kyla joined her university team. There she swam mostly distance freestyle, which began her foray into triathlon. Since university, Kyla have swum as a Masters swimmer competitively and then moved into the triathlon world as things started to evolve for her there.
Kyla's love of people, intensity and passion for the sport combined with a background in education and Kinesiology help build and maintain a structure conducive to getting optimal performance from her athletes and their program. Current projects include Head Swim Coach at Collège Notre-Dame and High Performance Triathlon Programming with CSLA, Triathlon Quebec and Triathlon Canada. Past projects include Triathlon Coach at the Hong Kong Sports Institute as well as building a competitive Triathlon program at Collège Bourget and Head Coach at Tri-o-lacs.
Linda Babins
Youth Group
Linda is a certified Fundamentals Coach and she is in-training on her Age Group Level certification.
As a young swimmer, Linda swam for the Davis YM-YWHA and the Montreal West Winter Teams. In high school, she started a swim club because none was offered. Linda swam for Vanier College and the University of British Columbia.
As an adult Linda has been swimming Masters with CSLA since 2011 when this facility opened. Linda also swam for Calgary Masters.
Linda has coached the Westmount Masters, the non-competitive YMCA children's teams and has been coaching the CSLA Youth and Youth Prep since 2018.
Laurie Carrier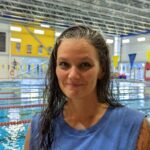 Youth Group
Laurie started swimming later in life, after injuring her back. She loved it and in 2007 joined the Westmount Masters. then joined CSLA Masters in 2011, when the pool opened in Cote Saint Luc. Laurie worked as a lifeguard and red cross swim instructor, and then took the trainings to become a swim team coach and started coaching.
​Olivia Wood – Youth Prep & Intro to competitive
Temuun Uyanga – Intro to competitive
Julia Ruscito – Competitive Lessons