Meet the team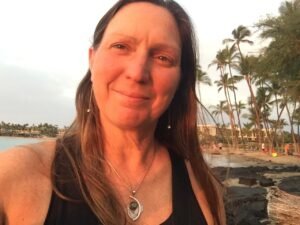 Anastasia Polito (Head Coach)
Anastasia is a former professional triathlete and national level swimmer. As a young swimmer, Anastasia excelled as a sprinter, competing in butterfly and freestyle events. At age 12, she earned a bronze medal at the Ontario Provincial Championships and, at 14 and 15, she was a Division 2 national swimmer. After a hiatus from sport due to injury, Anastasia began competing in triathlons in 1996. She raced as a part of Canada's age group team at the World Championships in 1998, and began racing professionally on the International Triathlon Union Circuit (ITU) in 2001. A member of Canada's National Development Triathlon Team from 2002 to 2006, she maintained a world ranking between 130th and 150th at the Olympic distance from 2003 to 2005.
​
Anastasia is a true movement specialist with a gift for correcting technique and alignment in the pool. She is an insightful coach who has been inspiring athletes to achieve their best for over 20 years. Working mostly with adults, Anastasia's ability to assess movement allows her to correct her swimmers flexibility, stability, strength and endurance, giving them tangible improvements in a short time.
Currently residing in Montreal, Anastasia also coaches the EnergiFit Triathlon Club and the Sylvan Adams YM-YWHA Triathlon Group. Many of the athletes she works with have their sights set on the podium and championship events, while others are keen to improve their personal bests at the events that they love. Anastasia has also previously been head coach of Antilopes Triathlon, 3 Vitesses Triathlon and Phoenix Triathlon. In 2015–2016 she was the coach for the O5 Swim the World expedition in which her swimmer became the first North American to successfully swim across waters connecting the five continents.
​Cindy Bassel-Brown (Assistant Coach)

Cindy Bassel-Brown is a master's swim coach, a deep-water fitness instructor, and a certified nutritionist/dietitian, her experience includes coaching school swim teams, and competing herself.

Cindy has been coaching Master Swim and offering deep-water exercise classes at the CSL Aquatics Centre since the centre's opening in 2011. As a part of the CSL swim team, she is in tune with the needs of those in the master swim program.
Beyond the pool, Cindy practices as a nutritionist, leveraging her degree in Nutritional Science to council food service, corporate health teams, and private clients.  She is passionate about combining healthy eating with movement and strives to help others become their best selves.

Contact info: cbasselbrown@gmail.com